Note: This is a translation from another original article in Swedish from AVfM's companion site in Sweden that—surprise!—has feminists there so upset. Stay tuned for the translation of an open letter from AVfM Sweden to "news" site Nyheter 24 that followed a few days later.—Eds.
A feminist reporter from Nyheter 24 is convicted of the maltreatment and molestation of women
[A sampling from a Nyheter 24 post by feminist reporter Mohamed Touzari:]
Let's have a month where men are banned from pubs

Mohamed Touzari "98% of those suspected of sexual crimes during 2013 were men. The majority of those crimes were committed under the influence of alcohol."
How many more attacks on women should we have to read about? How much longer should the predominant macho culture reign in the pubs?
Another weekend has passed and yet another…
A reader on the "news" site Nyheter 24 has today [November 18] published a Facebook update:
This morning I wrote a post on Nyheter 24 where I objectively put forward that I found it quite interesting how he [Mohamed Touzari] writes about what men should do and how they should behave when he himself, according to Lexbase [a searchable Swedish website and database of criminal sentences published in the past five years], is convicted of molestation, female maltreatment and theft. The post went viral and had 37 likes after 10 minutes. After that it didn't receive any more likes because Nyheter 24 removed the post. I decide to publish the post again and after 3 minutes the comment section is turned off. So, I now have one question: How shoddy are the leading voices of this debate allowed to be before it simply is not OK? Where do you draw the line?

And a follow-up question—is it ever allowed for journalists to censor the debate they themselves have started?

Personally I believe that every person on this earth has at one time or the other said something that might be construed as insulting to the other sex. If not immediately after then at least as one of the learning steps we go through as children. But for me, the limit has been reached long before maltreatment of women and molestation come into the picture. The limit starts at hateful speeches and lies.
An attachment provided confirms the allegations made:
Mohammed Touzari                                        Address
Sentence B1598-10                                2. Sentence B78-12
Date of sentence:                                           Read the full sentence (pdf)
2012-04-26
Sentence:
Gävle
JUDICIAL DECISION
Crimes committed
Battery 2 Ch. 5 § criminal code
Molestation 4 Ch. 7 § criminal code
Sanctions, etc.
Youth rehabilitation order 30 hours
Damages
Mohamed Touzari will pay damages to Melinda Andersson at the amount of 5575 SEK in addition to the interest rate according to 6 § interest rate law (1975:635) dating from November 20th 2011 until the payment has been made.
Mohamed Touzari will pay damages to Elin Karlsson at the amount of 5000 SEK in addition to the interest rate according to 6 § interest rate law (1975:635) dating from November 20th 2011 until the payment has been made.
Fund for crime victims
The defendant is ordered to pay a fee of 500 SEK according to the law (1994:419) of victims of crime.
The sentence above is from April 2012.
Another reporter from Nyheter 24, the radical feminist Irena Pozar, is very infatuated with this convicted woman beater and molester, as it is clearly seen from the comments she has made on Twitter.
Mohamed Touzari @mohamedtouzari – 24hI have written about how we should have a month where men are banned from the pubs:nyheter24.se/nyheter/kronik…
Irena Pozar @irena_pozar – 23hMy idol and apprentice @mohamedtouzari has as usual written something very SMART:nyheter24.se/nyheter/kronik…
Mohamed Touzari@mohamedtouzari@irena_pozar oh, you are soooo  <heart> <heart>
Irena Pozar has recently gotten one frustrated male reader sentenced for molestation. This man was sentenced to pay a fine and damages of 5,000 SEK for writing a comment seen in the picture below: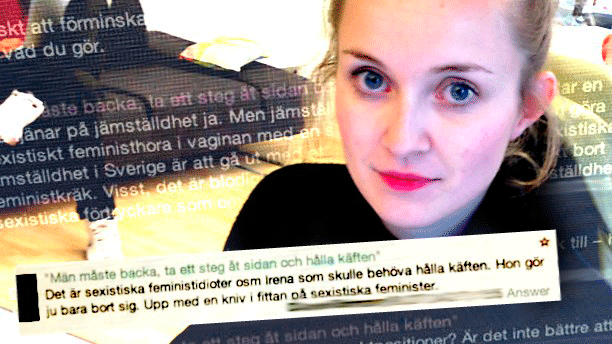 Pozar wrote: "Men need to back off, take a step to the side and keep their mouths shut"
The male reader wrote in response: "It is in fact the chauvinist feminist idiots such as Irena that should keep their mouths shut. She is just making a fool of herself. Let's shove a knife in the vaginas of chauvinist feminists."
As this is being written, Nyheter 24 has not yet commented on this revelation. Neither has it explained how to separate the men who should be despised from the men who should be held in high esteem. We suspect, however, that this division is done on the basis of one's skin colour and political views.