Plenty of cultural and media discourse has been dedicated to blaming the popularity and power Adolf Hitler achieved on men, so much so that it has become cliché, but rarely is an in-depth examination of the part women played in the adoration for Hitler presented. In the German elections of 1930 Hitler's National Socialist Party received more votes from women than any other party despite not nominating a single woman to the party and despite the competing parties nominating a combined 637 women to their parties in an effort to win the female vote.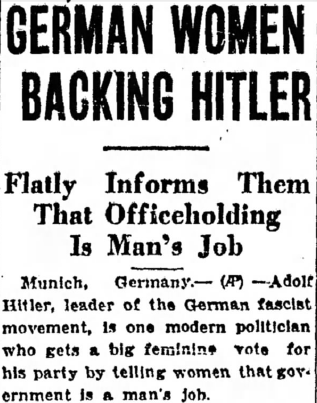 After grabbing the reins of power Adolf became known as "Handsome Adolf" as Western media outlets like Time Magazine gushed over his deep blue eyes and his sex appeal.



In this rare video footage of Adolf Hitler during a public appearance, you can be forgiven for mistaking him for Elvis Presley based on the masses of women screaming in displays of lust for him and literally crying due to being overcome with affection for Handsome Adolf.
https://youtu.be/DHHZti93bgU
The female fanaticism for Hitler is exemplified by the fact that the dream of young women back then was to dedicate their fertile wombs to him for producing more Aryans for the German state.
As late as 1944 just a year before Hitler lost control of Germany German women were instrumental in pressuring defeated male soldiers back into the war to continue the fight.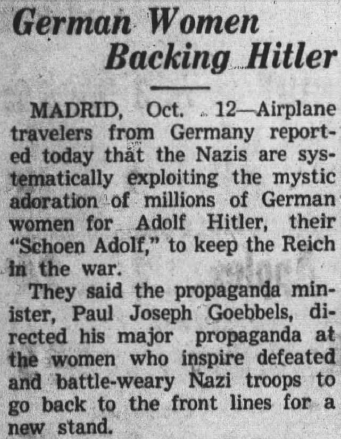 Tens of thousands of women like concentration camp guard Irma Grese, aka "The Beautiful Beast", were complicit in Nazi activities and Grese herself was hung after the war. Countless numbers of women also snitched on neighbors or husbands which helped keep the concentration camps full of inmates. Housewife Erna Petri dragged 6 children into the woods and coldly shot them in the back of the head at point-blank range. The youngest of the children was only 6 years old.
This is the side of the story about Nazi Germany that is rarely ever told. Certainly the men during that time period need to be held historically accountable but let's hold the women responsible equally accountable.