Well 2015 appears to be business as usual for America's most prolific liar and stalker Pauley Perrette (also known as "Abby" on "NCIS")
Continuing our reporting of the Pauley Perrette restraining order abuse scandal unraveling in the L.A. County courts, Miss Pauley seems to have rung in the new year right where she left off in 2014: that is, stalking her ex-husband Francis Coyote Shivers!
Fans of Perrette's NCIS co-star Cote de Pablo, known as #CotesArmy, have long been aware of Perrette's outbursts of jealousy of the younger, more popular De Pablo. Perrette has even had some recent late-night twitter meltdowns, ranting and raving and falsely accusing innocent young NCIS fans of being Mr. Shivers himself, apparently for saying they want De Pablo back on the show. But Perrette's well documented jealousy of De Pablo, and anger towards De Pablo for leaving (or "divorcing") the television show NCIS, is nothing compared to the jealousy and obsession that fuels Perrette's relentless stalking of her happily remarried ex-husband Francis Coyote Shivers. So much that Pauley Perrette just spent New Years Eve trying to get as close as possible to Mr. Shivers and his wife! And we have the evidence here.
As we have reported and what is well known: Mr. Francis Shivers has worked for years as a musician and a DJ, primarily in a very small distinct area of Hollywood that is known as the Cahuenga Corridor, or "Strip" which is an area on Cahuenga Boulevard just south of Hollywood Boulevard. Go to this link and view the map to see the proximity of the various bars, clubs and restaurants. Pay close attention to a club called "The Powder Room", which is right in the middle.
Mr. Shivers has DJ'd at virtually every one of the night clubs on this strip and has done so for over a decade, including many new year's eve's during that time period. Below is an actual Facebook photo from a previous New Years Eve showing Shivers Djing at Burgundy Room, directly across the street from Powder Room.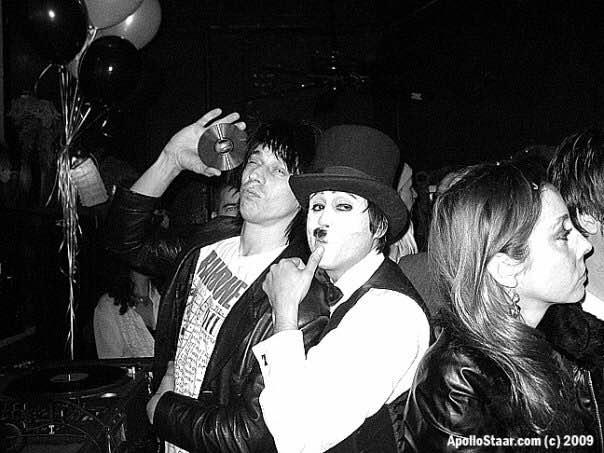 So well-known was the fact that Shivers was a fixture in the "Cahuenga Strip," LA film director Paul Sapiano directed a 2005 film entitled "The Boys & Girls Guide to Getting Down" where he cast Shivers in a cameo appearance specifically due to his "omnipresence" in this particular little area, and in April of 2012, Mr. Sapiano signed a sworn declaration stating that information, which you can view here: Declaration of Paul Sapiano April 1 2012 (PDF).
This declaration was used by Shivers during Miss Pauley's latest bid to get her wish: yet another restraining order against Mr. Shivers for her trophy collection. He used it to show that Perrette has for a decade, continued to go into areas where she most expects to find her ex-husband, and then scream and yell and dial 9-1-1 to claim that Shivers is stalking her and in violation of the restraining order, just like she did in the Shintaro incident in 2012 by following Shiver's social media postings showing it was him and his current wife's favorite restaurant.
Below is one of several social media postings by Shivers on December 29, 2014, just 48 hours before New Year's Eve, commenting about being on the Cahuenga Strip "as usual" where Shivers checks into the night club "The Powder Room," a venue smack in the middle of where he has been a fixture for a decade.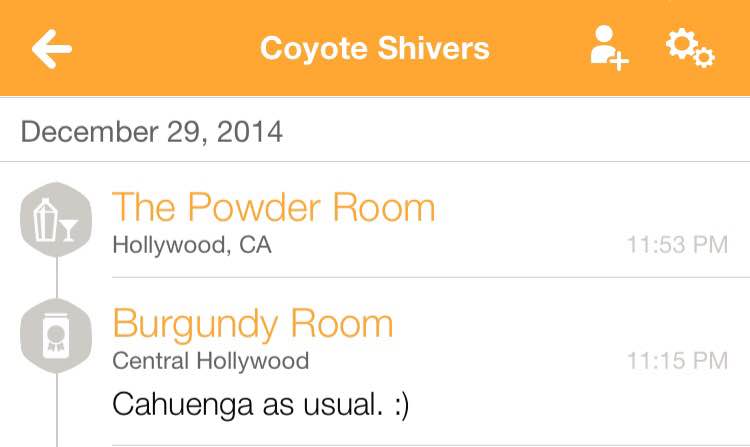 In short, Mr. Shivers is well-known and is a fixture in this very small specific area of Hollywood nightlife. Our investigation and interviews with countless locals confirm over and over that it is obvious to everyone where Mr. Shivers is expected to be on New Years Eve.
So where does Miss Pauley, a millionaire who has the financial resources to travel anywhere in the world, party on New Year's Eve? A penthouse suite in Vegas? A secluded romantic beach with a current lover? Nope. You guessed it, the Cahuenga Strip. Right in the middle of it at, you guessed it, "The Powder Room," deliberately placing herself within 100 yards of where her ex-husband Francis Coyote Shivers is expected to be kissing his wife of five years, Mayra Dias Gomes, at midnight.
In fact, Perrette even took to social media to proudly announce where she was at on New Year's Eve, like she was sending a message to her ex-husband and his wife saying "hey look you two, look where I'm at, I'm trying to set you up again, i will never ever stop…"
Perrette even admitted in a Tweet that it was she who made the New Year's Eve plans, so she cant even pretend it was someone elses idea that she was somehow dragged along to. Nope. This was where Pauley Perrette herself, with purposeful forethought, deliberately placed herself on New Year Eve.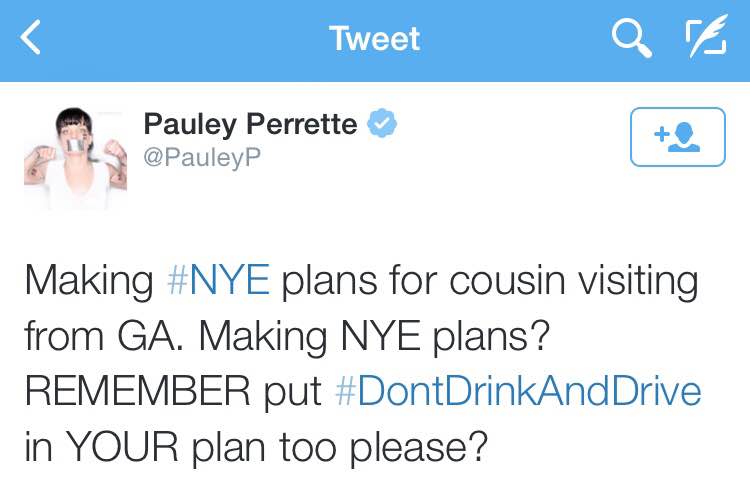 Aaawww… isn't that sweet? She is really concerned for the welfare of others that she politely reminds everyone not to drink and drive. What a friggen humanitarian.
Take a look at Pauley's New Years Eve tweet below and she is at the bottom of the picture along with group of "hanger-ons." You will also notice the name, "The Powder Room" in pink in the window behind them. Literally about 10 yards behind the window and just to the right, Perrette can actually see the entrance to Burgundy Room, where the above photo shows her ex-husband DJ'ing on New Years Eve. This is as creepy as it gets folks.
At the right of the picture is Perrette's so called boyfriend, Thomas Arklie. You remember him; the guy who Perrette started dating because he was Shivers regular bartender for many years, and who Perrette incited to call Shivers a "faggot" on the night of the "Shintaro" incident that was captured on tape as he tried to assault him. I guess Perrette's gay friends and gay causes that she advocates for (or, ahem, uses to promote her career and fake public image) have forgiven her for her boyfriend's outrageous comments. Or perhaps she covers that information up from these organizations when she is using them for publicity: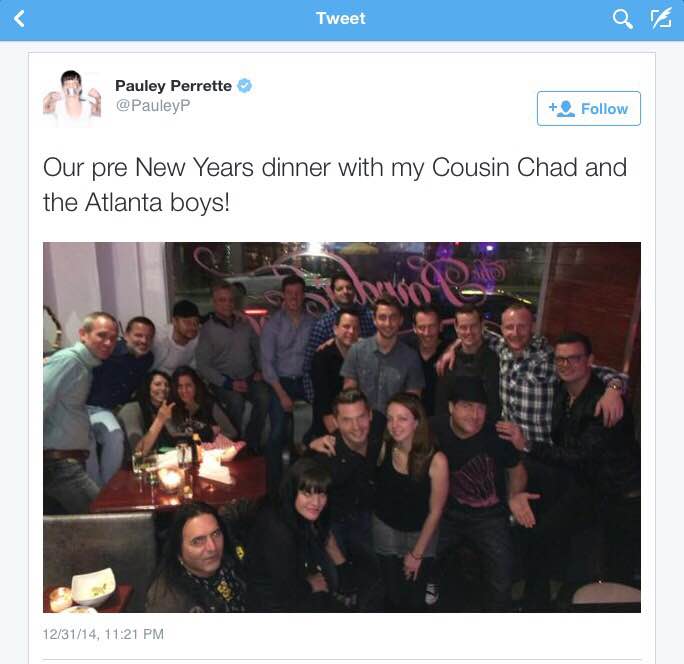 Now, we dont even have to ask to know that Miss Pauley already had a perfectly believable excuse all lined up for why she just happened to end up in Shivers' neighborhood within a just few feet of where has likely to be (just like at Shintaro restaurant), but gee, if Miss Pauley was telling the truth and truly afraid of her ex-husband (whom she has stalked and terrorized for a decade), any person with half of a brain wouldn't be within miles of an area where their ex-spouse would most likely be working or partying on New Year's Eve. But of course, that's exactly what Pauley wants and what she's trying to do.
Also keep in mind that Perrette lives in 90068, but this all takes place in the 90028 neighborhood, where you guessed it, Mr. Shivers both works and lives–with his wife of five years, Mayra.
Pauley Perrette follows the same pattern that she has for a decade. She follows Shivers social media to know where he is going to be, or most likely to be, then rather than avoiding that location, she shows up, faints, screams and puts on an acting performance to claim that Shivers is stalking her and wants him arrested. Yawn… so what else is new?
Thankfully, Shivers and his wife were nowhere near Hollywood on New Year's Eve, and video cameras definitively verify their location. Poor Pauley. Foiled again.
These actions and behavior on Pauley Perrette's part are in contrast to her testimony in court last September 24th and 26th that we covered here in a previous post. While on the witness stand, and with tears streaming down her face, shaking hands and trembling lips, she testified how terrified she is of her ex, how she is being stalked, and how she can barely function knowing he is out there. It could have been an Oscar winning performance for a movie that could be called "Liar of the Century." That is, if her acting wasn't so bad. Witnesses remarked at how transparent Perrette's courtroom antics were, especially after watching her laughing, pointing, and scowling at her ex-husband and his wife out in the hallway, when she was out of sight of Judge Stephen Maloney.
Pauley has demonstrated this same pattern before during previous court testimony which we have verified through our trial watchers, court transcripts, and Pauley's own big mouth on Twitter. She has repeatedly referred to Shivers as "her stalker," but her behavior, actions, and social media posts tell a completely different story.
In the Shintaro restaurant case, where Perrette waited for Shivers and his wife to arrive at their favorite restaurant so she could call 911, she has asked for the longest prison sentence against her ex-, again trembling with tears in her eyes, after just minutes before laughing and joking out in the hallway, out of sight of Judge Kathryn Solorzano. After Shivers refused to take her back and filed for divorce from her, Pauley Perrette even publicly compared her marriage to the Holocaust and herself a Holocaust victim. Something that was also reported by the Daily Mail and Got News.com. So far, attorney Larry Stein has ignored our requests and Pauley Perrette refuses to apologize for her statements about the Holocaust.
Does anyone have any doubt, after seeing this same pattern of behavior on Pauley's part, not completely convinced of what she is doing? Can you say, F-R-A-U-D?
The face of the false restraining order is Pauley Perrette, and that will be her legacy. Despite epic evidence of this fraud and circus, she has so far managed to avoid criminal prosecution and mainstream public backlash. But that is changing. With the ongoing investigations by civil rights groups gathering more evidence every day, and mainstream press like the NY Post, London Daily Mail, GotNews.com, Radar Online, and even the National Enquirer are slowly realizing what has been an open secret in Hollywood circles for some time now, and that dam will burst. And when it does, Pauley Perrette will have nobody to blame but herself.
Even the handful of starstruck public officials who have so far "bent the rules" to protect Perrette (Elizabeth Gertz and Jose Viramontes for example) are starting to realize that Perrette is not being completely truthful with them and this is one big growing celebrity stink they don't want to be associated with. Even Perrette's personal Private Investigator, John Nazarian, famously exposed for advising his clients how to falsify police reports, appears to be distancing himself from this scandal.
We can't make this stuff up folks. Maybe I'll write a movie script and call it "Crazy Star" about how a female TV star can lie to get restraining orders so she can use them as weapons to stalk her ex. Oh wait, Pauley already did that, in her own handwriting.
AVFM will continue to bring to you developments as we learn them and will continue to report every time we find Perrette stalking her ex, and going into his neighborhood trying to orchestrate another false 911 emergency. We also have some MAJOR bombshells coming in this case.
And we will continue to advocate on behalf of the many others who have also been victims of the lesser-famous versions of Pauley Perrette out there, abusing the restraining order process for vindictive motives, destroying lives and wasting precious resources which should be used for real victims. Although we have covered this growing Hollywood scandal extensively on this site, and NCFM has covered it as well, the bigger issue iis the abuse of the restraining order process and the built in and routine biases and discrimination, that males encounter when faced with false R/O's., and the current lack of accountability for proven false accusers like Perrette.
Hopefully, one of these days, we can bring you pictures of some of these folks in orange jumpsuits with the words, "L.A. COUNTY JAIL" stenciled on the back.
Sing it to the tune of the TV show "COPS":
Watcha gonna do

Watcha gonna do, when AVFM comes for you

Bad boys, bad boys…