"Beware Sage's rape hugs!" cries Jeff Sharlet as he waves his basket of picked cherries and doctored mugshots. I rolled my eyes hard enough to lose them under the desk when I saw that Sharlet's piece was categorized as "news" and not "opinion."
Author Jeff Sharlet opened up his hit piece with a photo of a pedophile no one at the conference even knew to set the tone. He threw in Elliot Rodger for good measure, as is custom ever since The Daily Kos lied about Rodger being a MRA. The funny bit about the pedo is that Jeff in reality "found" him and put him in a car with the Honey Badgers to agitate them. Jeff was also seen ushering Pedobear around, and they rarely separated. AVfM will have a story on Jeff's odd use of the (guy possibly paid to act like a) pedophile later.
I'm a little jealous though, because Jeff should have put more attention to the real evils of the world, such as hug rape. Yes, I was accused of hugging a girl, so now I'm once again Satan.
GQ, you did a great job of putting words in my mouth and bending context like silly putty, but you need to try harder to make me look like a pervert.
First, you need a better picture. Next time, throw me in a dryer and let my mustache grow out so I get a Kim Coates thing going. The "junkyard ginger Hugh Laurie" look might work when you want to describe my stay in a prison hospital where it's never lupus, but not when you want to make me look like a huggy rapist.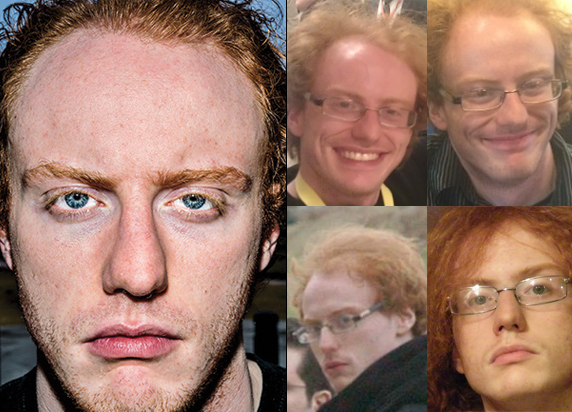 If mechanics detailed cars in the same way that GQ edited images, every Lamborghini would come out an AMC Gremlin. Poor Paul ended up looking like a cross between a duffel bag and that dad from Cloudy with a Chance of Meatballs (Normally he just looks like a duffel bag). The photo editor cranked up contrast and sharpness to bring out every imperfection in our complexion, even if it meant forcing unnatural lighting and drawing in some blemishes that weren't there before.
The photographer Bruce Gilden told me to pose with my sign and I was standing there thinking that this was kind of like doing a mugshot. That's when I should have flipped on my recorder and asked some pointed questions, but stupid me didn't do that. An interesting unmentioned detail was that four Zen Men members were there, and the photos Bruce took of them did not make the cut. One white couple and two black men holding signs discrediting the perceptions Jeff wanted to leverage were suspiciously absent from the GQ article. I asked Bruce for the other photos so these Zen Men members would have something to share on social media, but the answer was an emphatic "no."
To the Zen Men members participating in the photo shoot: I'm sorry you wasted time making signs and trying to voice your opinion, but apparently GQ thought you weren't worth including. On the other hand, I'm glad you all did not end up becoming targets. Take this as a lesson to protect yourself around the media. Remember: They do not care about you.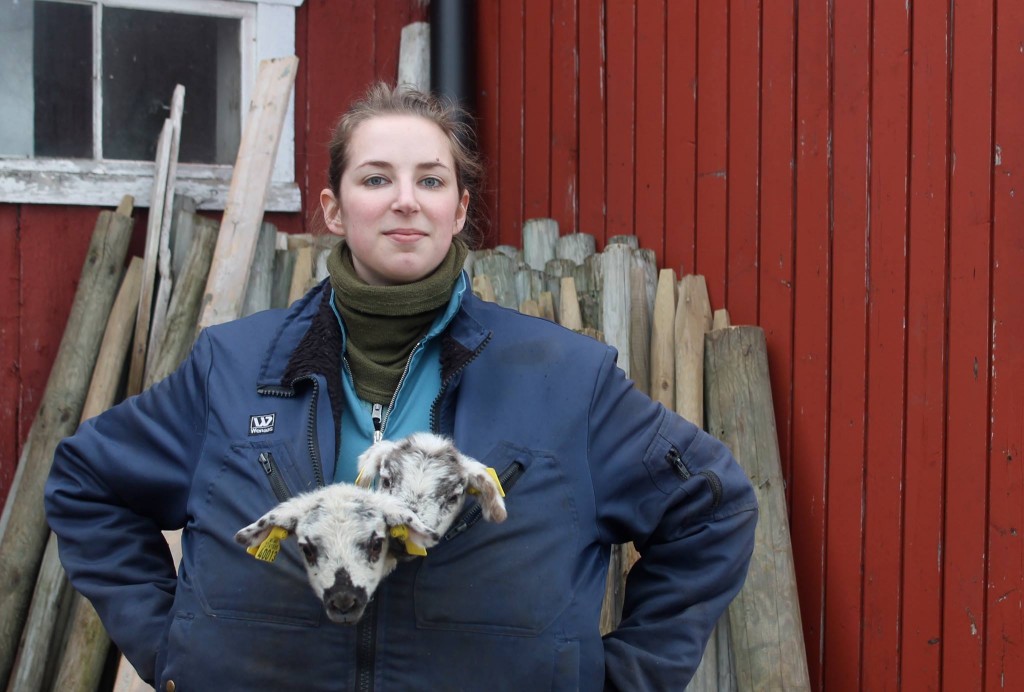 Bias from visual stimulus aside, let's talk about Blair Braverman, the dog-sledding plant hired specifically to flirt with men and get GQ a story. Since Blair was attractive, I did flirt with her… at first. Nothing wrong with that. What Jeff failed to mention was that Blair eventually came on so strong that I suspected that she was up to something and withdrew (GQ goons aren't good with subtlety). Our security head Al Martin witnessed Blair's rosy-cheeked banter with me, so Jeff is more than welcome to keep chasing the story to its conclusion if he's hellbent on challenging the testimony of our security people.
I could complain about selective quotation and how Jeff straight up put words in my mouth, but who cares? Jeff is in news. So long as you call yourself a reporter and make your target look bad enough, facts are irrelevant.
But we have to acknowledge at least one fact: Blair was put in the conference, by GQ, under their assumption that she would get hurt, raped or worse.
Jeff wanted that to happen, not MHRAs. Blair would play Seven Minutes in Heaven if it got Jeff a rape story. She was there to confirm a presumption that MHRAs, MGTOWs or other red-pill folk are incapable of self-control and are ready to rape at a moment's notice.
Unfortunately for Jeff, I have an ability to detect manipulation, and I do not think with my dick. He calibrated his bear trap to clamp shut on a hug-trigger, which meant he could try to make me look like a pervert even with totally appropriate physical contact. Since he was obviously desperate to catch prey, his trap misfired and merely ripped my jeans without biting me to a standstill. Having narrowly evaded pseudo-journalistic "capture," I can easily show you that Blair was, indeed, a trap.
Let me tell you the brief story about Blair, with no spin. Blair asked for my advice about how to support her friend suffering from a false rape allegation. I told her we could go to the designated discussion area where we wouldn't bother anybody with what sounded like a private discussion. She agreed. We went to the balcony since other rooms had interviews or Honey Badger stuff going on. Even then we were not alone because conference security staff was visible and people walking around just inside could see us through the glass doors. Blair proceeded to tell me this story about her friend's history in BDSM and how his partner took her bruises from consensual play to the cops. She was sure that the allegation was false, and that led to us talking a bit about relationships in general. She told me her friend was the creative type, so I suggested that he might appreciate a poem. My talking to her included a reassuring knee pat and a hug. She never complained, and she made a sad face that looked like she needed a kind gesture.
Blair, now educated about how to emotionally support a man falsely accused, ran to Jeff to complain about how rapey I was.
I never intend to sleep with strangers, but Jeff framed this interaction as me using Blair's pain as an excuse to eat her out. He painted me as a pervert perching on a chair, licking my lips (Yes, he wrote that I was licking my lips), and waiting for my chance to run my hand up her skirt after some hasty kindness ritual.
"No good deed goes unpunished," I suppose.
This is the gist of the report:
SAGE IS THE "NICE GUY" THAT DRAGGED POOR SWEET BLAIR ONTO A BALCONY FOR A GAME OF GINGER GROPE. SHE TRIED TO RUN, BUT SAGE PINNED HER TO THE RAILING AND RAN HIS HAND UP HER TREMBLING THIGH AS HE DROOLED GREASE LOOGIES DOWN HER CLEAVAGE TO THE CROWD OF RAPE APOLOGIST ONLOOKERS BELOW. OH GOD, THE SMELL.

WAIT? WHAT IS HE–HE HUGGED HER! HE ACTUALLY HUGGED HER AND DEMANDED A POEM! IT'S LIKE THE COPS DON'T TAKE COOTIES SERIOUSLY. CALL THE  EXORCIST! BLAIR SAID IT WAS THE MOST NON-CONSENSUAL HUG SHE'S EVER KNNNOOOOWWWN.

–Jeff Charlatan—wait, I mean, Sociopath. Fuck. Sherbert. Sharlet. There. Sorry, maybe.
Great, now I have trust issues.
I admit it. I hugged her and told her that her friend might like a poem. And I would have gotten away with it if it weren't for that meddling journalist and his talking plant!
Hide yo kids, hide yo wife, because I'm the hug rapist!
Uh, boo?
I happily blame the victim here. If people are feeling down, they're just askin' fer a hug. You hear me, world? I'm going to hug and love the shit out of you!
Ah, but now I am using rape jokes too liberally. Jeff does a lot of implicit brown-nosing about how rape jokes are a problem, but he lowered the "rapey" bar enough to include gestures of reassurance.
Maybe I'm nuts, but I think Jeff Sharlet marginalized rape more than any rape joke ever could. When you make hugs, of all things, rapey, you make it harder for prudent people to take rape seriously–and let's not forget when Jeff took the attempted rape of Alison Tiemen's husband and called it something out of Penthouse magazine. You can hear Alison's account of Jeff's utter insensitivity and suspicious use of a pedophile in the Feburary 26th Honey Badger Radio episode.
Honestly, if me hugging someone is the worst thing Jeff and Blair could spin, then that shows how little dirt on me they had to begin with. Think about it: this is a news article where the author presents the opinion of his own friend as fact.
Jeff, if you want to set someone up and disgrace journalism entirely, maybe find a fact checker that doesn't telegraph your plans.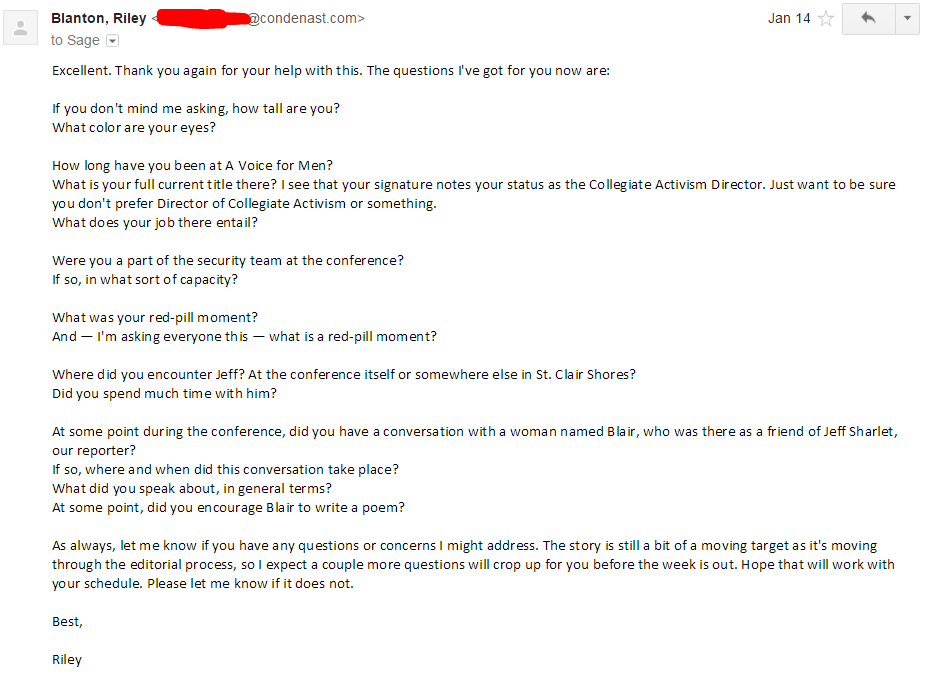 Paul had to pull Riley aside when Riley asked suspiciously specific questions like these to more than one staff member. Remember that Blair flirted with other men. I just happened to be the cleanest fit for Jeff's nerdy "nice guy" mold.
Blair never once communicated discomfort and happily accepted all interactions because my emotional support was ammunition for Jeff. If Blair actually was shocked into some kind of uncomfortable stupor by my hug, I dunno, maybe she remembered bending over to pick up a box of treats before one of her sled dogs gave her a Milkbone instead. I don't care anymore. I can only wish her friend the best given my limited ability to assist, assuming that Blair didn't make the whole thing up.
I take my leave from Blair and Jeff by cursing them with ginger magic. Now they will see my Photoshopped face during every orgasm. I'm creepy like that.
There you have it: Jeff showcases obvious bias through selective omission, doctored photos and enough framing to put most contractors to shame. If you wanted to hear the story behind the story, here is the unedited and neglected interview between myself and Jeff. Remember as you form your opinion that Jeff withheld a mountain of information, leaving only what confirmed common hallucinations tied to ad revenue. Unfortunately, controlling the narrative rewards Jeff's predatory nature with gainful employment. Such is life.
I can only hope that in the future my sign states the status quo, not a wish for a better future.