It is time yet again for AVFM to start its quarterly fundraiser. This is the time we appeal to activists, regular readers for help. We ask you to help us force feed a sane narrative about men, women and society to counter the insanity and destructiveness of feminists and social justice warriors.
As we begin, allow me a moment to look back on 2014 and what we have accomplished, and helped accomplish, with your support.
Needless to say, we held the first ever International Conference on Men's Issues, defying threats, corporate backstabbing, protests and an onslaught of mainstream media attacks, all aimed at shutting us down.
2014 was the year that Mary Kellett was convicted of ethics violations, and also turned out to be the year that Kellett got her walking papers from the new prosecutor when the residents of Hancock and Washington Counties in Maine voted the criminals out of that office.
The past year AVFM has, as every year before it, continued to grow, not just in traffic, but in influence. Feminists are clearly on the defensive. The more "moderate" among them have been forced into relenting to the emerging change in narrative. The more stubborn among them have simply grown more shrill and insane in a frenzy of defensiveness.
It is clear we still have a long way to go, but it is also clear that we are gaining steam and momentum.
During the last 12 months we have seen more and more MRA friendly and anti-feminist commentary in the mainstream media. And between Fox News and USA Today we saw our first actual positive coverage of Men's Rights Activists.
We even saw Huffington Post publish, then unpublish, the evil, kitten-eating Dean Esmay.
This year has seen the emergence of ZenMen, Kennesaw State University Men, and the previously unimaginable spectacle of an AVFM sponsored anti-feminist conference on an American University Campus.
We have recently launched and hosted the WhiteRibbon.org website for domestic violence pioneer Erin Pizzey, and were able to watch as the corrupt White Ribbon Campaigns went ballistic with complaints to the Australian Parliament and threats to sue. We also watched them shut up and go silent when we called them on their bluff. We are scarcely done with those folks.
Not even close to done.
It has actually been an incredible year. And the year ahead of us looks much brighter. Before I get to that, let's look back to our traffic for a moment, from the past two years.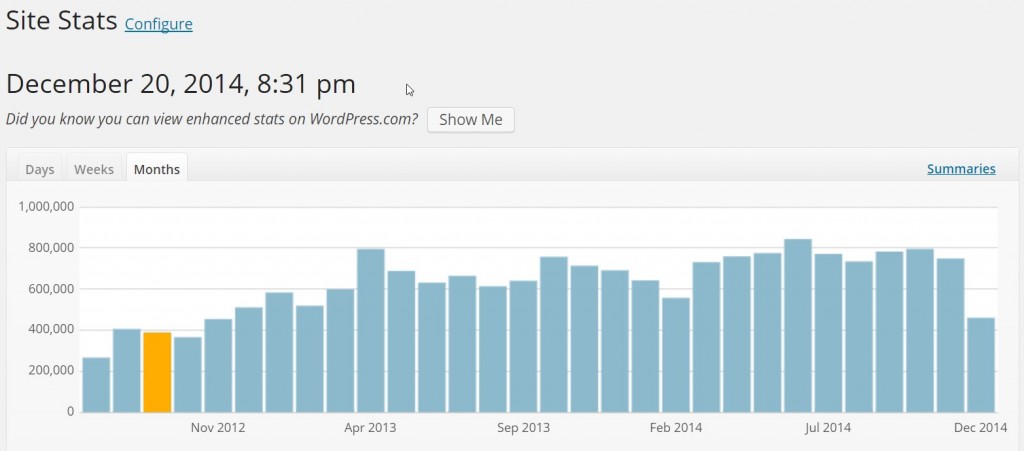 I wanted you to see that because I want you to see where your support has taken us in terms of our presence. And because it will serve as the starting point to tell you what 2015 will be like, with your continued help.
2015 will be the year we start averaging a million views a month. Aside from our organic growth, the kickoff for that will be in part due to a Gentlemen's Quarterly (GQ) feature on us coming out in March. That publication is sending a pro photographer across North America to do shoots on us for the article.
We also have a documentary on us by a Cannes Film Festival Best Documentary winner which will be released. CNN recently called, and we suspect they will call again.
2015 will see the next and even bigger International Conference on Men's Issues. The official announcement is due soon.
And 2015 will be a very important year for another reason. For almost six years now, we have literally made the impossible happen for comparatively little money. That is thanks to the incredible and fiercely determined talent that AVFM has attracted and to your support.
That talent, and the juggernaut of a platform we have built together, has now taken us to the point where we can break through the monetization barrier and actually start planning much bigger things.
This year will see AVFM go into commercial ventures that will fund even more activism. I cannot go into any details at this point, but rest assured it is coming, and as with most everything else we have set out to do, we are going to pull it off. This track will ease the pressure on some of our larger donors who have always seen us through donation drives.
We have the plans in place, and the people to execute them, but we need your help to get there.
At this point I think it can no longer be denied that we are starting to change the world. We can't claim credit for all that change. Anti-feminism was bound to emerge. But AVFM has been pivotal in much of what has happened and we are about to turn the burners on high.
Please help us reach our fundraising goals so we can make 2015 the astounding year that we know it can be.

Provided byFund-Raising-Ideas-Center.com
Fundraiser will end on January 1, 2015